HIKMICRO G60 Focusable 640x512 Pixel and 50Hz thermal imaging camera
The Hikmicro G60 thermal imager has a thermal and a normal camera. The built-in highly sensitive high resolution IR detector and powerful sensor with a sensitivity of 0.035°C detect the temperature change very accurately and measures the real-time temperature.
The Hikmicro G60 is equipped with an Automatic focusable lens. The temperature measurement range is -20°C to 650°C with an absolute accuracy of ± 2°C or 2%. and an image frequency of 50Hz. You can connect the instrument to the HIK-Thermal-Client software to view real-time display, pictures and recordings on your phone or tablet.
You also have the option of using 4 different telephoto lenses.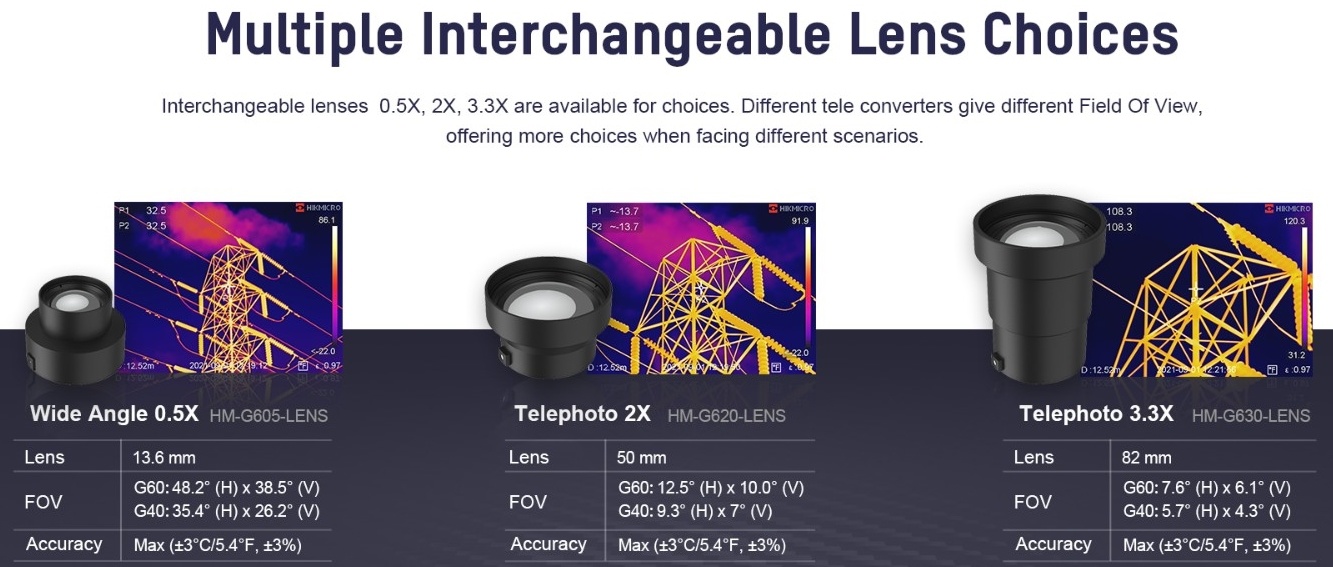 HIKMICRO Analyzer software available for on the PC and T-vision App in the Appstore or Google Play 
for Life streaming to a Mobile phone or Tablet.
Key Features
 Thermal resolution: 640 x 512 (327 680 pixels)
 NETD : < 35 mK (@ 25 °C,F#=1.0)
 Temperature measurement range : -20 °C to 650 °C (-4 °F to 1202 °F)
 Accuracy: Max (±2°C/3.6°F, ±2%)
 Measurement Presets: Center spot, Hot spot, Cold spot, User Preset Point/Line/Area
 Auto/Manual/Laser focus
 50 Hz image frequency
 4.3'' LCD touch screen display
 8MP Optical camera
 Up to 4 hours continuous running
Specification

Thermal Module
Image Sensor Vanadium Oxide Uncooled Focal Plane Arrays
IR Resolution 640 x 512 (327 680 pixels)
Pixel Pitch 17 μm
Spectral Range 8 - 14 μm
NETD < 35 mK (@25°C), F#=1.0
Focal Length 25 mm
FOV (Field of View) 25° × 19°
Image Frequency 50 Hz
Focus Continuous Autofocus/Autofocus/Manual Focus/Laser Assisted Focus
IFOV (Spatial Resolution) 0.68 mrad
Aperture F1.1
Minimum Focus Distance 0.3 m (0.98 ft)
Optical Module 
Picture Resolution Configurable: 2 MP, 5 MP, 8 MP
Video Resolution 640 × 480
Focus Fixed
FOV 25° × 19°

Image Display
Display 800 × 480 Resolution, 4.3'' LCD Touch Screen
Color Palettes White Hot, Black Hot, Rainbow, Ironbow, Red Hot, Fusion, Rain
Digital Zoom 1x, 2x, 4x, 8x
Image Modes Thermal/Optical/Fusion/PIP
PIP Thermal Picture in Optical Picture
Fusion Thermal Picture and Optical Picture Combined
Measurement and Analysis
Object Temperature Range -20 °C to 650 °C (-4 °F to 1202 °F)
Accuracy Max (±2°C/3.6°F, ±2%)
Measurement Presets Center Spot, Hot Spot, Cold Spot, Off
Point 10 User Presets
Line 1 User Preset
Area 3 User Presets
High Temperature Alarm Audible Warning
Color Alarm (Isotherm) Above/Below/Interval/Insulation
Storage
Storage Media Removable Micro SD Card (64 GB)
Image Storage Capacity 60 000 Images
Image File Format BMP with Measurement Data Included
Video Storage Capacity 54 Hours