GUIDE P120V Pocket-sized Thermal Camera
(Multispectral Image Fusion) technologie (MSX)
GUIDE P120V Pocket-sized Thermal Camera designed for electrical equipment maintenance and building inspection, which can fast detect the potential problems, report repair data and share images by Wi-Fi. It is a truly handy thermal camera that fits in your pockets for fast and accurate thermal inspections anytime. P120V featured with 3.5-inch LCD touchscreen for simple operation, and support picture-in-picture, smooth zoom, max and min temperature alarm, Cloud Service and more.
Features for GUIDE P120V Pocket-sized Thermal Camera
Reasonable Layout and Good Ergonomic Design
No interfere between lens area and grip area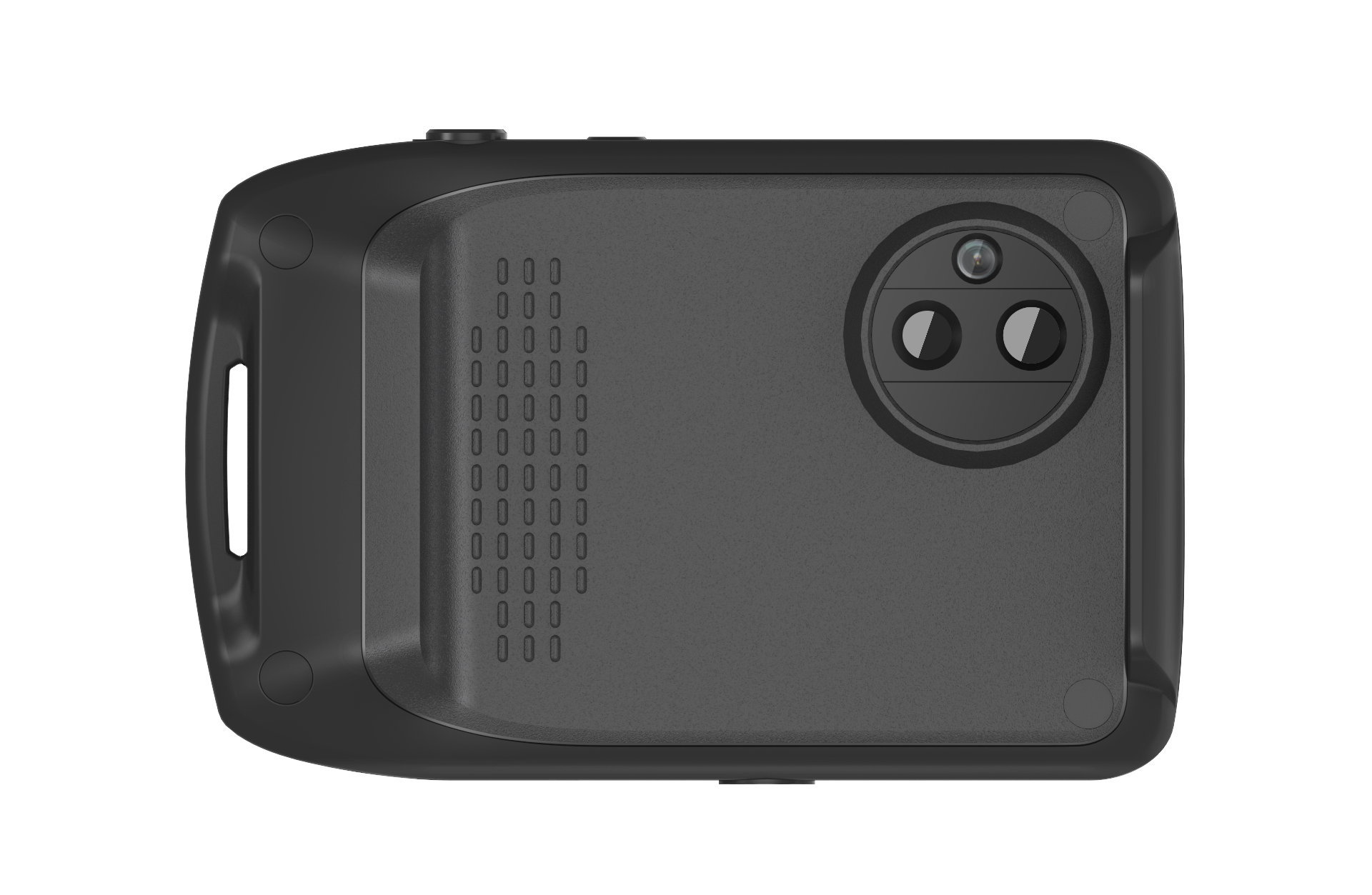 Easy Operation:
3.5" Touchscreen Display
High-brightness LCD, 320 x 240 pixels
Smooth zoom, up to 8X
By sliding on the touchscreen, easy to zoom and observe the details of the image.
Android Platform, Intelligent Operation
User-friendly design based on Android system, which is as simple as using a smartphone.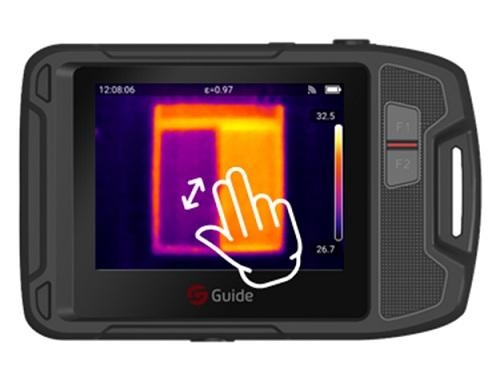 1. Tripod mount interface
2. USB Type-c Interface
Support charging by mobile power
Support operating while charging
3. Shortcut Button for Level-span
Support switching among auto level-span, Semi-auto level-span, and manual level-span.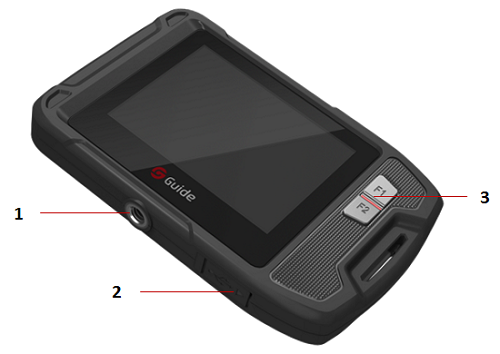 -20℃-400℃ wide measurement range
Auto switching between-20℃-150℃ and 150℃-400℃,
Powerful Max & Min temperature tracking and alarm functions
Fully radiometric measurement, full screen or target area max & min temp tracking, and full screen max & min temp alarm.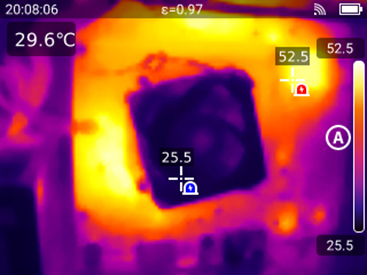 MIF Image Enhancement, Picture-in-picture
Guide's exclusive MIF multispectral image fusion patent technology supports the fusion of visible image details on thermal image, which will improve comfort of viewing and efficiency.( other called this MSX technology)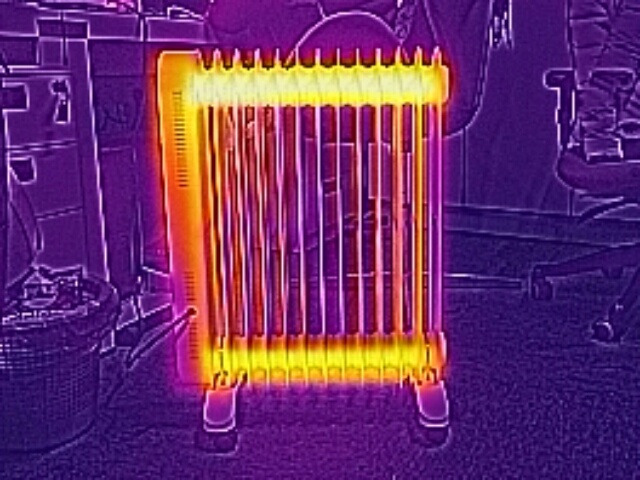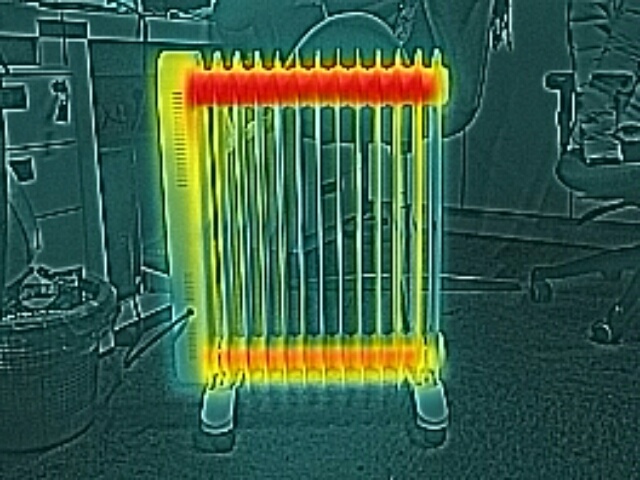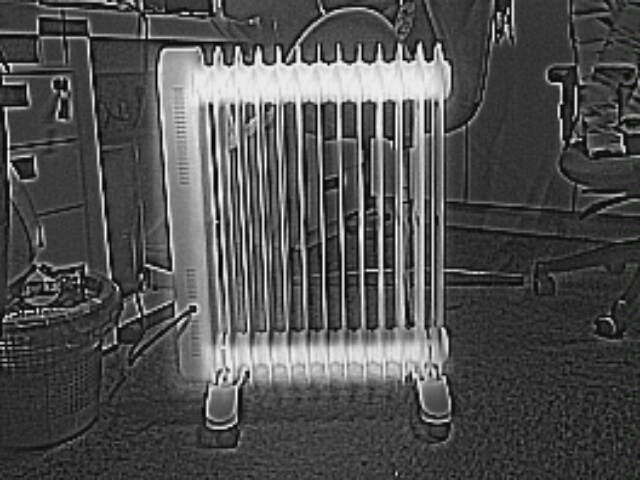 Picture-in-picture function for better image comparison of thermal image and visible image.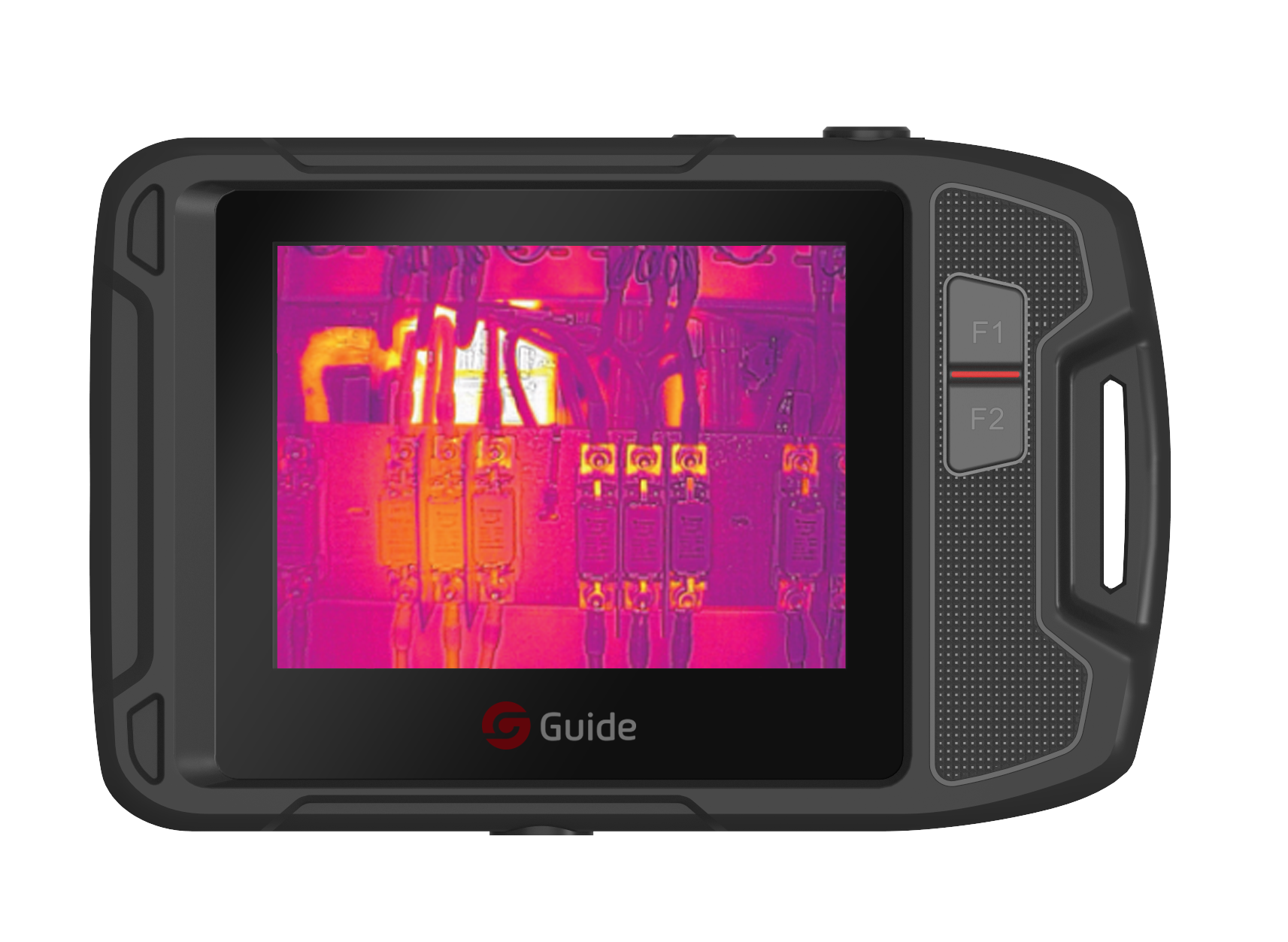 Wi-Fi connectivity , support Cloud Service
Wi-Fi connectivity enabled for remote control and instant sharing. And GUIDE T120V thermal camera support Cloud Album, you can back up the images to the Cloud in real-time.
About the Cloud Service
When you are in severe environment and cannot find and report faults in a timely and effective manner, or need more professional engineers to help you analyze the problem, you can upload the captured pictures to the cloud server anytime and anywhere. Other engineers will log in and download images for analysis and feedback.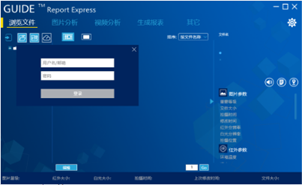 Specification for GUIDE P120V Pocket-sized Thermal Camera
Model
P120V
IR image & Optical
IR Resolution
120×90 @17μm
Detector type
VOx/7.5~14μm
Frame Rate
15 HZ
Thermal Sensitivity / NETD
60 mk
Focal Length
2.28mm/F1.13
Field of view(FOV)
50°×38°
Spatial Resolution(IFOV)
7.6mrad
Focus
Focus-free
Visible Camera
Visible Camera Resolution
640×480
Focal length
Focal length 0.5-3m,focus free,FOV 68°×52°
Flashlight
Yes(on/off/flash)
Image Display
Display
3.5" LCD touchscreen display
Display Resolution
320×240
Image modes
IR, Visible, Picture-in-Picture, MIF
Color Palettes
6:Hot Iron, Black Heat, Heat Iron, White Heat, Medical, Arctic
Digital zoom
Smooth zoon, up to 8X
Temperature Measurement
Measurement Range
-20℃-150℃,100℃-400℃(Auto switching)
Accuracy
±2℃ or ±2%, whichever is greater
( target temp ≥0℃, ambient temp is 15℃ ~ 30℃ )
Measurement Spot
Center spot,and can add one removable measurement spot
Measurement Area
Can add one removable area measurment box
Auto Max & Min Temp Tracking
Full screen auto max & min temp. tracking
Analysis target (area) max & min temp. tracking
Full Screen Max & Min Temp. Alarm
Yes
Image Storage
Storage Media
4G Internal memory,at least 500 sets of images
IR Image Format
Full Radiometric (JPG)
Visible Image
Yes
Connections & Communications
USB
Type-C, for image data transmission with PC
WIFI
Yes, Wi-Fi enabled for data transmission
Mobile APP
Yes,and support Cloud Service
PC IR Analysis Software
Yes
Power system
Battery Tpye
Built-in rechargeable li-thium battery, non- removable
Battery Operating Time
≥2 hours(when wifi-off)
Charging Time
≤1.5 hours
Environmental parameters
Operating Temperature
-10℃~50℃
Storage Temperature
-40℃~70℃
Encapsulation
IP54, 1-meter drop test
Certification
CE, FCC, ROHS
Weight
240g
Size
133.05*87.31*24.1mm
Standard Accessories
Wristband, Charger, USB Cable, Carrying Bag, Quick Start Guide