JVS-FRT-P8 Temperature Detection Facial Recognition IP Camera
Jovision Temperature Detection & Mask Detection& Facial Recognition 3-in-1 system JVS-FRT-P8 have been chosen by customers worldwide to support for reopening from lockdown.
This system has combined high-precise temperature detection technology and Jovision advanced AI technology for mask detection and facial recognition.
With meticulous design from Jovision experienced engineers, this system can be used standalone and can be integrated with access control system as well.
It has been widely used by Hotel, banks, offices, schools, stations, hospitals, factories etc. to detect visitors' body temperature and to require visitors wearing masks.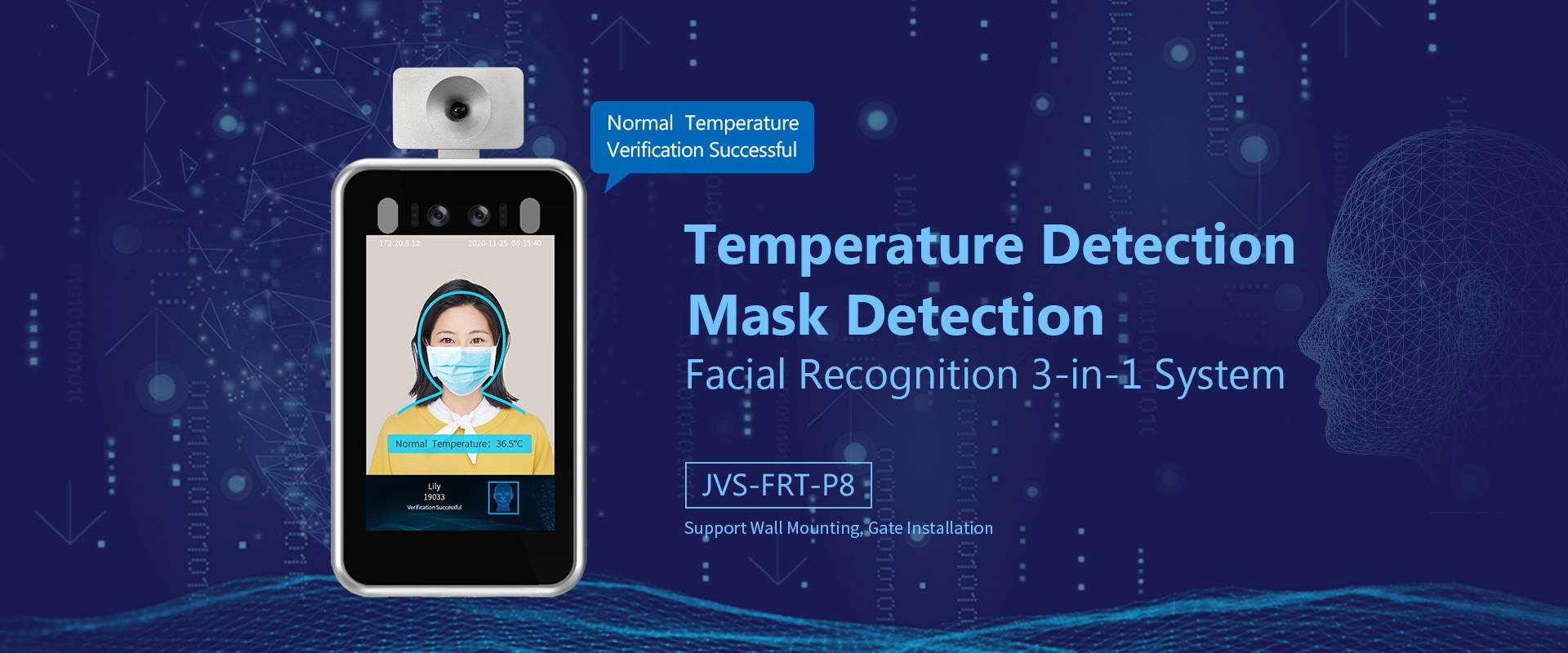 Key Features:
• Non-contact automatic Body Temperature Detection
• Support No Mask Detection
• Support Voice Alarm ( For Abnormal temperature, No Mask)
• Unique Facial Recognition algorithm.
• Facial Recognition time < 1 second
• Face Database ≥20 000 faces
• 8-inch IPS HD display
• Used to prohibit epidemic of COVID-19 by detecting human temperature and require mask wearing
Fields of application:
Supermarket
Production facilities
Schools
Company site
Temperature&Mask Detection
Temperature Range&Accuracy
Range:  30-42 (℃) Accuracy:±0.3℃/Indoor
Detection Distance
0.3-0.6m
Temperature Detection
Support
Mask Detection
Support
Voice Alarm
Support (For Abnormal Temperature and No Mask)
Facial Recognition
Recognition Accuracy
≥99.7%
Recognition time
<1second
Face Database
≥20 000 faces
Recognition Distance&Height
Distance: 0.5~2 m  Height:1.2~2.2m,Adjustable
Recognized Face Angle
≥30°
Lens Angle
2.8mm,H 117.8°, V 64.1°, D: 141.9°
Black & White List
Support
Interface
Ethernet
10M/100M Ethernet, RJ45 Port
Wiegand Interface
1 pcs for output
RS232 & RS485
Support
Alarm Output
Support
Micro-SD Card
Built-in 32GB;Support, upto 128GB
Audio Input&Output
Support, with Built-in Speaker
USB Interface
Optional
General
Working Temperature
15℃ - 35℃
Working Humidity
RH 5~90%
Power Supply
DC12V 3.33A
Power Consumption
≤20W
Dimensions
273mm*144mm*25mm
Diameter for Install on Gate
30mm
Screen size
8-inch, full-view IPS LCD screen
Weights
2.5KG(Without stand)
Installation
Wall Mounting, Gate Installation