| | |
| --- | --- |
| IR-resolutie: | 640 × 480 (307,200 pixels) |
| NETD: | < 35 mK (25°C= 1.0) |
| Beeldfrequentie: | 50 Hz |
| HDMI Interface: | Ja |
| Nauwkeurig: | Max (± 2°C ± 2%) |
| Beeldscherm: | 800 × 480 Resolution, 4.3" LCD Touch Screen |
| Gezichtsveld (FOV): | 25° × 19° |
| Temperatuur-bereik object: | -20°C to 650°C |
| Visuele camera: | 3264 × 2448 (8 MP) |
Hikmicro FT31
Thermal imaging camera for firefighting.
Extremely powerful camera for observation in total darkness and smoke.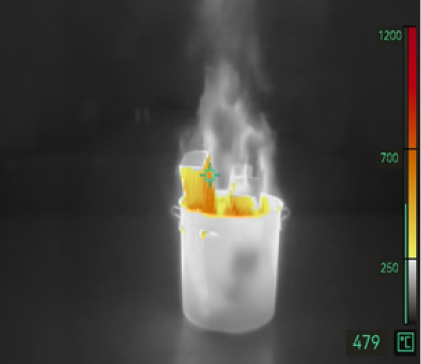 Fire Detection
For scenes with higher background temps where open flames are present, particularly in structural fires.
Rescue
For use with lower temperature situations, such as initial rescue
efforts after traffic accidents, searches in wooded areas, etc.
Basic
For initial fire attack and rescue operations; colors represent temperature.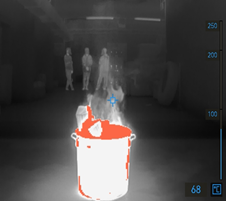 Hot Area
Used for finding hotspots. The hottest 20% of the scene is colored red.
Specification
| | |
| --- | --- |
| IR Resolution | 384 x 288 (110,592 pixels) |
| NETD | < 35 mK (25°C) |
| Image Frequency | 60 Hz |
| Detector Pitch | 17 μm |
| Spectral Range | 7.5 to 14 μm |
| Focal Length | 7 mm |
| F-number | F1.6 |
| Field of View (FOV) | 54.1°×40.2° |
| Spatial Resolution (IFOV) | 2.42 mrad |
| Focus Mode | Focus Free |
| Min. Focus Distance | 1 m (3.28 ft) |
| Display | 800 × 480 Resolution, 4.3" LCD Screen |
| Digital Zoom | 1x, 2x, 4x |
| Image Modes | Thermal |
| Color Palettes | Basic, Black Hot, White Hot, Fire Detection, Rescue, Hot Area, Cold Area, Building |
| Object Temperature Range | -20°C to 1200°C |
| Accuracy | Max. (± 2°C/3.6°F, ± 2%), for ambient temperature -20°C to 50°C and object temperature above 0°C |
| Measurement Tools | Center Spot, Hot Spot, Cold Spot |
| Storage Media | Built-in 32 GB flash memory |
| Image Storage Capacity | Approx. 100,000 Images |
| USB Interface | USB Type-C |
| Battery Type | Interchangeable and rechargeable Li-ion battery |
| Battery Operating Time | Approx. 6 hours |
| Battery Charging Time | Approx. 3 hours fully charged |
| Protection level | IP67, IEC 60529 |
| Drop Test Height | 2 m (6.56 ft), IEC 60068-2-31 |
| Safety | IEC 61010-1 |
| EMC | EN 301 489-1, EN 301 489-17, EN IEC 61000-6-2, EN IEC 61000-6-3 |
| Vibration | 2g IEC 60068-2-6 |
| Shock | 25 g, IEC 60068-2-27 |
| Working Temperature Range | -20°C to 50°C,  80°C = 40min / 150°C =15min / 260°C = 7min |
| Storage Temperature Range | -20°C to 60°C  |
| Relative Humidity | < 95% non-condensing |
| Weight | Approx. 1022g (2.25 lb) |
| Dimension | 132.7×276.3×114.6 mm (5.2 × 10.9 × 4.5 in) |
| Tripod Mounting | UNC ¼"-20 |
| EAN | 6974004643690 |
FT31 Camera
Neck Strap
Lanyard
Retractable Lanyard
Interchangeable and Rechargeable Li-ion Batteries
Power Supply for Battery Charger
Two-bay Battery Charger
International Use Plugs (US/EU/UK/AU) for Power Supply
USB 2.0 A to USB Type-C Cable
Hard Carrying Case
Calibration Certificate
Quick Start Guide