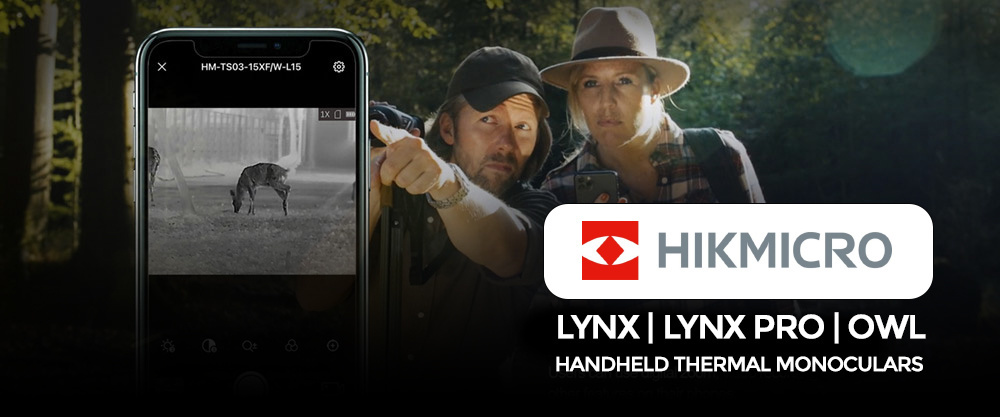 HIKMICRO LYNX PRO LH19
Handheld Thermal Monocular  with a thermal resolution of 384x288 pixels.  Range 897 meter
The HikMicro LYNX Pro LH19 handheld thermal night vision camera has 384x288 thermal pixels and a 1280x 960 LCOS display.
The highly sensitive thermal imaging camera ensures a clear view, even in total darkness.
The handheld night vision camera is ideal for security, tracking, patrolling, searching and rescuing people and animals, and hunting.
Also for tracking wounded, hidden animals.

SPECIFICATIONS:
| | |
| --- | --- |
| Detector type:  | 12 μm, high sensitivity detector |
| Thermal Resolution:  | 384x288 pixels |
| NETD | < 35mk |
| Image frequency:  | 50 Hz |
| Field of view:  |  13.8 × 10.4° |
| Optical Magnification:  | 1x |
| Lens:  | 19 mm |
| Color palettes:  | Black Hot, White Hot, Red Hot, Fusion |
| Battery life:  | max. 6 to 7.5 hours Li-ion |
| Zoom:  | Digital 1x,2×,4×,8x |
| Weight:  | 310 g |
| Detection range:  | 897 m |
| Hotspot tracking | Yes |
| Dimensions:  | 171 mm × 61 mm × 57 mm |
| Waterproof:  | Yes, IP67 |
| WiFi | WiFi |
| Operating temperature: | -20 to 55°C |
| Storage:  | Built-in memory (8GB) |
| Power Supply:  | rechargeable lithium battery, built-in |
| Warranty:  | 3 years |
| EAN: | 6974004640071 |